DIFFERENCE BETWEEN INCUBATOR AND BOD INCUBATOR
The basic difference between an incubator and BOD incubator is temperature. A general purpose incubator has only heating option and is usually operated at 37°C; while a BOD incubator also known as cooled incubator has both cooling and heating options and usually operated at low temperatures such as 10°C and 21°C.
BOD INCUBATOR WORKING PRINCIPLE
Electricity is supplied through mains MCB. Temperature is set through digital PID temperature controller, usually at 20°C. Machine is kept running for 5 days. Refrigeration system starts just after setting temperature. Axial fan circulates air inside chamber. Temperature sensor senses current temperature and give data to PID controller, which furthermore keeps the set temperature constant till desired time.
DETAILED DESCRIPTION
Temperature: Standard temperature range of our BOD Incubators is 5°C to 60°C. In incubation process, temperature accuracy and uniformity both are important; therefore, our BOD incubators are equipped with digital PID controller supported by PT100 sensor for temperature settings that displays both SV (set value) and PV (process value). Temperature accuracy is ± 0.5°C and uniformity remains ± 1°C.
Illumination: For illumination, we use fluorescent or LED light, which is door operated use can also individual switch it On or OFF permanently. As an option, we also provide 3 tube lights on door with digital cyclic timer in to control the illumination 24x7 weekly.
Safety: There are some safety features in our BOD Incubators such as over temperature and over current protection and temperature low and high limit buzzer alert etc.
Cooling: For cooling temperature under BOD Incubator, we use CFC free refrigeration system of reputed brand in the market such as EMERSON or Godrej.
Heating: Heating is done by ISI mark U shaped tubular air heaters.
Air circulation: Air circulation is mandatory to spread uniform temperature inside the chamber; for this we use axial fans or motorized blower system.
Construction: Our bod incubator manufacturer are made keeping durability in mind. Construction is durable and double walled; exterior is made of thick mild steel and powder coated; while, interior is made of stainless steel. The gap between these two walls is filled with PUF insulation. Outer door is solid and there is also an inner door made of glass to view samples. Outer door has mechanical door lock and key.
Trays: Each BOD Incubator is provided with 2 to 5 removable trays. These trays are removable and height adjustable and made of steel wire mesh cable. We also provide perforated stainless steel trays as option.
Options: We offer some options to our customers with little added cost. These options are 21 CFR software, PC interface and PLC based HMI controller with USB interface and validation port at either side of the machine. We also make GMP BOD Incubators with complete stainless steel construction.
We are BOD incubator manufacturers and suppliers in India. Our standard models can be bought at highly competitive price with excellent warranty terms, price and performance guarantee. We also make customized units at factory price based on specific requirements of each customer.
BOD INCUBATOR DIAGRAM
1. Exterior
2. Inner chamber
3. Toughened glass window
4. Air circulation fan
5. Removable tray
6. Temperature sensor
7. Door hinges
8. Door handle with lock & key
9. PID temperature controller
10. Analog ampere meter
11. Pilot lamp
12. Safety thermostat
13. On/Off MCB
14. Refrigeration system
15. Power cord
16. Caster wheels
17. Solid door
18. Heater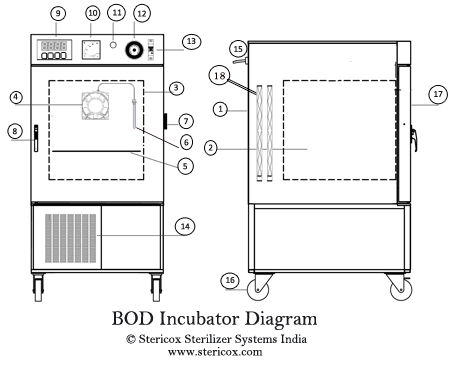 TECHNICAL SPECIFICATIONS
Temperature Range
5°C to 60°C
Temperature Accuracy
± 0.5°C
Temperature Uniformity
± 1°C
Temperature sensor
PT-100
Temperature Controller

PID temperature controller
LED display of SV & PV

Construction
Double walled with PUF Insulation
Inner Construction
Stainless Steel 304 grade
Exterior Construction
Powder Coated GI sheet
Exterior Door
Solid door with lock & key
Inner door
Glass door to view samples
Trays
Wire mesh cable trays (removable)
Interior illumination
LED Light
Heating Element
U-shaped SS tubular heaters
Refrigeration System
CFC Free Compressor
Air Circulation
Motorized Blower / Axial fan
Safety
Temperature High / Low alarm
Power supply
220 Volts 50 Hz
Optional

Digital event timer
Illumination with 3 florescent lights
Digital cyclic timer 24 x 7
21 CFR Software for data recording
RS485 computer interface
Exterior SS 304 / SS 316 (GMP Model)
Stainless steel preforated trays
Data logger with USB Interface
Humidity system
Door open buzzer
PLC & HMI controller with USB interface
50 mm validation port hole to insert sensor or wire
IQ, OQ & PQ Documentation
Caster wheels with brake
STANDARD DIMENSIONS / SIZES
| Model | Dimensions (w x D x H) | Volume | No. of Trays |
| --- | --- | --- | --- |
| BOD120 | 450 x 450 x 600 mm | 120 | 2 |
| BOD216 | 600 x 600 x 600 mm | 216 | 2 |
| BOD320 | 600 x 600 x 900 mm | 320 | 3 |
| BOD450 | 600 x 600 x 1250 mm | 450 | 4 |
| BOD600 | 600 x 800 x 1250 mm | 600 | 5 |
| BOD800 | 800 x 800 x 1250 mm | 800 | 5 |
| BOD1000 | 800 x 800 x 1550 mm | 1000 | 5 |